Installing solar on metal roofs is becoming increasingly popular among homeowners since metal roofs are light, robust, and frequently built of eco-friendly recycled materials. When it comes to solar panel roofs, metal is one of the better options for this category. Solar panel installation atop a metal roof are attractive for various reasons, including ease of installation, durability, and environmental benefits.
Is Metal Roof Good For Solar Panels?
While asphalt shingle roofs are common on solar homes, metal roofs are a superior option if you plan to go solar. If a roof fails prematurely, removing the solar panels before the roof can be repaired is an additional cost. On the other hand, metal roofs survive a very long period; thus, the age of the roof is less of an issue.
If you're still not sure if solar on a metal roof is a good idea, here are the top 5 points to think about:
Solar panels are simple to install on a metal roof.

Thin-film and regular PV panels can both be installed on solar metal roofs.

Metal roofs are long-lasting and can outlast solar panels.

Solar panels can boost a metal roof's cooling efficiency.

A residence with metal roofing and solar panels is environmentally beneficial.
What Type Of Metal Roof Is Best For Solar?
Metal Roof with Standing Seams:
Professionals can install solar panels on most standing seam metal roofs; with standing seam metal roofs, we can clamp the solar array to the roof's seams, avoiding the need to drill holes in your roof to secure the array.
Most homes and buildings with standing seam metal roofs may convert to solar power without making structural changes, thanks to the possibility of using the existing trusses to support the additional weight of the array. Some standing seam metal roofs, particularly those installed on older homes and barns, may require structural improvements, especially if the home or outbuilding is built with rafters rather than trusses.
Metal Roof with Exposed Fasteners
Professionals can install solar arrays on most exposed fastener metal roofs. We must drill through the metal roofing to secure the solar array, unlike standing seam metal roofs.
Metal roofs with exposed fasteners frequently necessitate structural improvements to the roof's interior structure. If you see purlins on your roof, you'll almost certainly need structural upgrades. We add lumber to the existing horizontal purlins to complete the structural changes; this provides us with the essential mounting points for a rooftop array while allowing your roof to take the additional load of rooftop solar. These structural modifications frequently increase the cost of getting solar.
Contacting a professional to discuss your designs for a pole barn or other outbuilding with an exposed fastener metal roof is highly recommended. It's far more cost-effective to have the appropriate lumber installed during the construction phase than having us fix the roof structure after it's finished.
Metal Corrugated Roof
Solar panels cannot be mounted on a corrugated metal roof without drilling holes, and every precaution is taken to keep them watertight.
It necessitates a specific mounting mechanism that employs straddle blocks as brackets. They are securely attached to the top ridge, leaving the lower crest, which gathers rain, free of holes. The holes in high-quality brackets are sealed with thick rubber gasket seals, which are more effective and less messy than sealant gum.
Straddle blocks can be used on any metal roof that is uneven or has various degrees of gaps between panels.
To guarantee secure placement of solar panels on corrugated metal roof, the blocks have to correspond with the installation grommets on the back of solar panels.
Roofs Using Metal Tiles
Solar panels have been installed on a metal tile roof; another way for installing solar panels that do not include drill holes or penetrating the metal. For standard asphalt tiled roofs, a similar solution is also available.
Metal tiles are already fastened to the mounting rail. It's only a matter of aligning them with existing tiles and replacing them. The panels are readily joined using guiding metal rods after the device is clicked into place.
The new tiles have the same form as the old ones, so they don't seem out of place or leave any gaps for moisture to get in. They provide natural protection for the roof, keeping it in good shape.
Solar Panels on Metal Roof Cost
A study by the National Renewable Energy Laboratory found that solar panels on a metal roof can cost up to 20% less than installing them on a conventional roof. The study also found that the payback period for solar panels on a metal roof is about eight years, compared to ten years for a conventional roof. Solar panels on a metal roof are also less likely to suffer from leaks and other problems. This is because the installer does not have to cut holes in the roof, potentially weakening it and causing leaks. Metal roofs are more durable than conventional roofs. The life span for a metal roof is about 50 years versus 25 to 35 years for a conventional roof.
Can You Install Solar Panels On Metal Shingle Roofs?
Metal roofs are getting increasingly popular, but they are still uncommon compared to asphalt shingles. Metal shingles are used on the majority of residential metal roofs nowadays. They're both durable and appealing. When it concerns the installation of solar panels, these are the roofs that are most challenging for professionals.
However, a few tried and true methods for installing solar on these metal shingle roofs have shown to be even more secure and sophisticated than a standard solar installation on an asphalt roof.
What Is The Best Roof For Solar Panels?
Solar panels can be installed on practically any roof, whether made of asphalt or metal. On the other hand, some roofing materials are better for solar panels because they provide a more sturdy basis.
If you own a metal roof with standing seams, you're in luck since solar panels can be installed on it. Standing seams minimize the need for drilling to attach them, lowering labor costs. Furthermore, where the sun does not touch the panels, metal roofs give additional reflection, keeping your home cooler.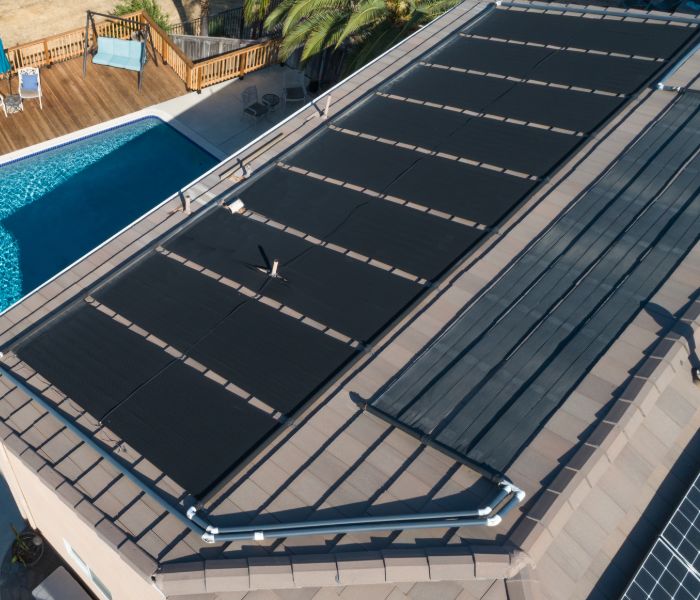 How Do You Attach Solar Panels To A Metal Roof?
To fix your solar panels in place during earthquakes and other natural calamities, you will need a sturdy solar panel mounting system. The stages listed below are suggestions and may vary based on the roof type.
SET UP MATERIALS
You won't be able to go up and down continually, so keep everything accessible. And a ladder, of course. The rest should be shipped with your solar panels.
FIX THE STANCHIONS
Find a good place for the stanchions. Stanchions hold the panels to the roof, preventing them from falling.
Securing the stanchions to the rafters of your roof is important. Consult your home's blueprint to find the rafters.
So, now that you've found your rafters, it's time to put them up! Four feet should be the spacing between stanchions. Drill holes in the stanchions and attach them to the rafters.
INSTALL FLASHING
Remove the shingles and install a flashing to a bolt unto the rafters; after drilling a hole, the flashing keeps water out. They have a seal as well as a flashing to help avoid leakage.
RAILS ATTACHED
Placing and tightening the screws These are bolted to the stanchions. It's best to use an impact driver to establish a good grip.
ALWAYS CHECK FOR PARALLEL RAILS
Now align the rails. What do you do? Calculate the distance between them with a tape measure. The diagonal distance must match. If the spacing isn't the same, adjust the rails.
MIDDLE RAIL PLACE
One end of the center rail should be spanned. Make sure the solar panels are centered with a tape measure.
RUNNING THE WIRES
Remember to install a power inverter kit under each panel. Don't forget to get copper wires with your solar inverter kits! Inside and outside these structures, solar panels and arrays should be connected.
Install wires from your panels to a meter and a sub-panel. They should go through the rails trunk to the power inverter kits.
SET UP THE PANELS
Mount solar panels, verify the cable connections. After that, attach the retaining clips to the rail; this will secure your panel in place.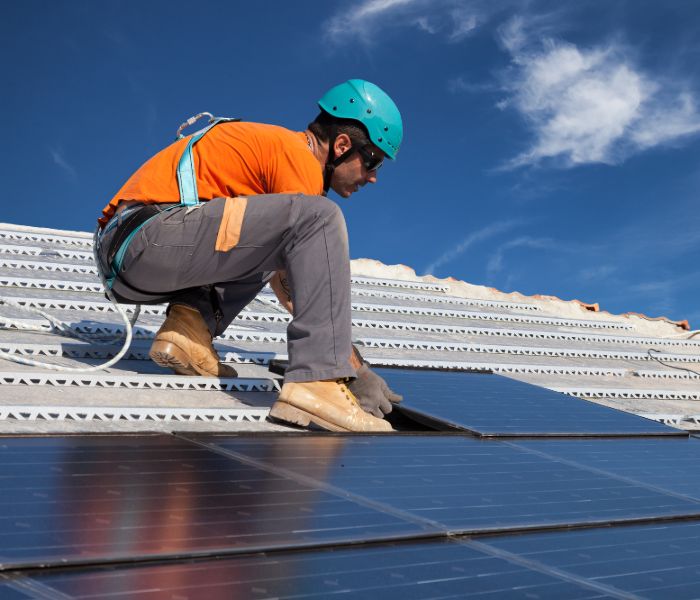 Verdict
According to HomeAdvisor, installing solar panels costs an average of $26,055. The average property owner pays $17,323. Most 3kW–10kW systems cost $2.50–$3.50 per watt.
Consulting a profession on the best solar panel to use and to also inspect your roof type is best advised when considering getting a solar panel. 
For more information about going solar contact Go Solar Florida State.